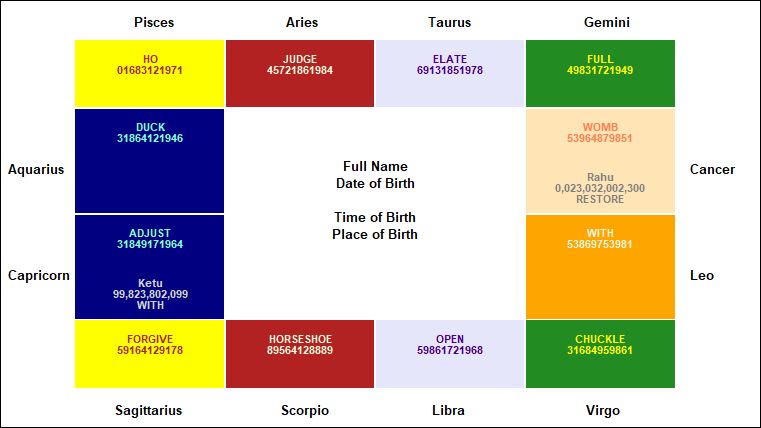 Astro Remediation Box (ARB)
(use for balancing Astrological energies from your Birth Chart)

Requires you to supply date, time and place of birth.
An ARB does not include a Consultation or specific recommendations for Switchwords, etc., relating to specific life situations.
$ 27.99 (USD) per chart
Kat utilizes this website to generate Birth Charts which she uses for creating your ARB:
https://soulmatestars.com/vedic-signs/calculate-your-vedic-sign
Please email Kat at blueiris.org@gmail.com with:

Your full name (from birth)
Current name (if different)
Gender
Date of birth (spell out month)
Time of birth
Place of birth

The Astro Remediation Box includes Planetary Frequencies/Blue Iris Numbers and Switchwords and may include additional customization.

An Astro Remediation Box (ARB) works on a general basis, helping to BALANCE Astrological Signs and Elements relating to your birth date, place and time, using Vedic Astrology as a base from which to work.

The alignment of the Planets at the time we were born is "burned" into our deeper memory. It is the first energetic experience we had outside the WOMB. It connects US to our origins. As such, the imbalances felt at that time affect US throughout our lives, whether we recognize it or not. The Astro Remediation Box is about looking to the alignments, to the imbalances, and helping US to deal WITH them and how they have and CONTINUE to affect our lives, our focuses, our being.

Often repeating experiences and patterns relate to the influences found in our birth charts. The Astro Remediation Box is about helping to BALANCE these, thus helping to CHANGE the way we are affected by them as we live our lives. We don't have to experience the world the way we always have. We can CHANGE the way we see things, which in turn helps US to CHANGE our reactions and responses to life. The Astro Remediation Box is simply one tool which can BE useful in achieving these changes.

We have tools (including Switchwords) to HELP US BALANCE Transits as they happen in the NOW, and the Astro Remediation Box gives US an ability to HELP BALANCE our connection to the energies experienced at the time of our birth.

Also included are Zodiac Balancing Energy Circles, which address Astrological Imbalances, Corrections and Remediation, using Switchphrases and Number Codes, along with Biochemic Remedies and Bach Flower Remedies.